Classroom Coordinator
The Classroom Operating System
Classroom Coordinator is some sort of
"Meta-Operating System" that isolates the computer's operating system to provide an environment oriented to the classroom, simple and organized according to the work program of the course.

Access to several online contents for every course in one place.

.

Supports any kind of multimedia formats with the same application.

Availability of several online resources for each course:

Automated attendance list with individual pictures

Consult the agenda and course objectives

Course multimedia content arranged by topics

Multimedia Library in addition to the standard course content

You can create official and/or self evaluation exams

Videoconference with other classrooms

... and dozens of additional resources

Curriculum progress control

Class schedule control

Availability of basic and advanced tools.

Integration and implementation of any application or educational software in one place.

Interactive whiteboard proprietary software integration (if you have one)

We also offer a generic software for most interactive whiteboards

Ability to integrate your e-book library and Active Textbooks

... and much more.
Ease of Use
Classroom Coordinator was designed to be used from the first minute, without requiring prior training. It's intuitive, friendly and orderly environment provides teachers with all the resources, content and tools required.

If you have an interactive whiteboard you will be able to operate your interactive classroom as if it were a touch screen, and, in combination with our remote control, you will have the flexibility to use all resources without having to be near the board, offering you the mobility in the classroom and even the possibility for your students to interact, without leaving it's place.


If you do not have an interactive whiteboard, you can build your interactive classroom with a single remote control and a TV or a projector.
Active Education
If your students have laptops or your classroom has computers, you may use the Classroom Coordinator's students module to:

Engage students with the content
Run exercises, by students or by teams
Apply self evaluations and official exams individually and/or at random.
Get control, share and monitor student terminals.
... and much more benefits.
Outside the Classroom
Online Services


Students may: Review all the topics seen in class.

Request remote individual assessment and tele-training sessions.

Access to collaborative tools such as discussion panels, digital libraries, collaborative workspaces, wikis, knowledge data bases, etc.

Exercise their knowledge using evaluations and exercises.

... and many more services.
Blended Learning


First solution in the market that offers you a true multimodal environment on a single platform.

Allows the integration of classroom activities, distance learning activities, and the combination of both.

You may offer training hybrid models, blended and/or self-taught.

Implement the multimodal educational strategies according with new educational trends.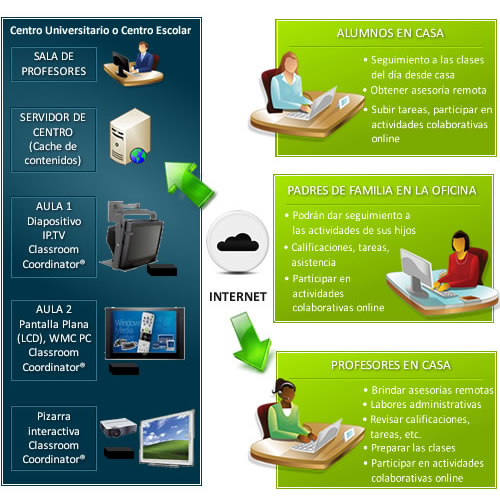 Classroom Coordinator

Features


Advantage


Use it


Educative Content


Active Textbooks


Author Tool